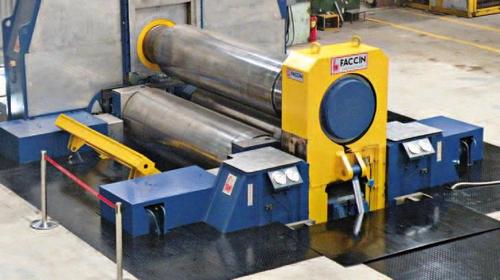 Variable Geometry Plate Rolls
Product Code : RVGPR 07
Product Description
Variable Geometry Plate Rolls
Our company has gained a reputed position in the industry for the manufacturing and exporting of Variable Geometry Plate Rolls . The offered products are precisely designed using hi-tech technology and advanced machines by our experienced professionals. Entire range is strictly scanned by our quality checker to ensure their quality. We offer these Variable Geometry Plate Rolls in various grades and dimensions as per client's requirement. Clients can avail the offered products from us at a market leading price.

Products Application: Super-Heavy weights Rolling Shop.

Products Further Details:
This HAV series of Plate Rolls assures the best possible combination of efficient rolling power and high precision prebending. The machine have three rolls among which top roll moves vertically and other two rolls fixed at the lower end moves horizontally, irrespective of each other. This unique design assures strategic adjustment between the different bending points to match the diverse production needs, based on the principal of press brake with variable V dies. The distance between the two rolls is effectively adjusted to achieve optimal plate drive and enhance capability. Herein, the distance between the roll centres is reduced to augment the prebending capability while minimizing the length of the flat end. The quality of the plate drive and prebending is not compromised at any level and equivalent to the four rolls machines available in the market.
To achieve high bending power, the distance between the bending rolls can be increased that leads to the similar results as with heavy duty plate rolls. Unique design of our machine minimizes the work height as the cylinders move the lower rolls in a horizontal position. Owing to the same, no foundation is required for machines with the bending capacity of 1-1/2 ins.
When it comes to prebending process with our range of Variable Assembly Plate Rolls, high efficiency and safety is guaranteed, as the plate is inserted horizontally unlike angled as in the case with conventional three roll machines. Consequently, the motorized roller feed tables or plate centring systems can be easily used in the machine.
We have installed patented EPS electronic balancing system in this HAV series of machines that guarantee parallel rolling with high tolerance up to 0.2mm (.008") and improved wear and tear resistant.
This machine fits in the needs of heavy duty rolling, and overpowers the efficiency and performance standards of ordinary three roll bending machines served in the market.
Contact Us
Via Dell'Industria 19, Visano, Brescia, 25010, Italy
Phone :39-030-9958735