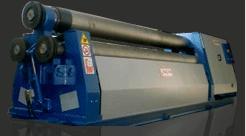 3 Rolls Double Pinch Plate Bending Rolls
Product Code : RDPPBR 06
Product Description
3 Rolls Double Pinch Plate Bending Rolls (DP3)

With the assistance of our professionals, we are engaged in manufacturing and exporting a wide range of 3 Rolls Double Pinch Plate Bending Rolls (DP3) to our clients. Our product range is designed using superior quality raw material and advanced technology in accordance with international quality standards. The offered products are used in various industries. These 3 Rolls Double Pinch Plate Bending Rolls (DP3) are known for their unmatched features like optimum performance, dimensional accuracy and resistance to harsh temperature.

Products Further Information:
This Double Pinch Plate Bending Rolls comes under the DP3 series, which is reckoned for high precision and outstanding performance. The eminent feature of the machine is its RGS design that reduces the minimum distance between various bending points leading to high efficiency and precision.
DP3 series is the most advanced evolution in plate rolling segment to effectively meet the requirement of fabrication shop with the extraordinary strength, versatility, and ease of operation. Our enormous experience in the domain of heavy and super-heavy duty machines results in technically advanced DP3 series of plate rolls.
The standard feature of our machine is its robust MCS bearing system having 4 independent bearings for various bending rolls. As a result, DP3 guarantees high load absorption capability and improved tilting of the side rolls. This feature also works well with rolling cones owing to the high versatility.
To improve the wear and tear resistant feature of DP3 machines, we have worked upon the ultra-wide roll support having lubrication circuit mounted within the linear slides. When it comes to increasing the versatility feature of the machine, we have added roll shaft extension allowing the dies to be attached to bend profile and pipe.
Extensive rotation power of DP3 ensures advanced and efficient rolling torque and speed without energy loss, as the three rolls are driven independently by various hydro-motors and gearboxes fitted along with rolls shafts.
Contact Us
Via Dell'Industria 19, Visano, Brescia, 25010, Italy
Phone :39-030-9958735